Lets get to the Bottom of this!
Wow, I have been learning some things about babies today. Nothing unusual in that I suppose. But this is stuff I have never heard of and I am a mother and grandmother of 6 who range in age from 22 yrs to 2 years old. I've been doing this whole baby thing for quite a while.
So let's look into this! Settle down with your beverage of choice. Cheers, bottoms up its nappy time!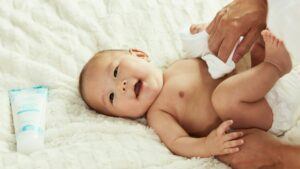 Disposable nappies for instance. They weren't about when I had my daughters, they just consisted of a weird pad that went inside specially made plastic pants.
By the time my nephews were appearing several years later they were much like they are today but not as user friendly.
Looking after my nephew for an evening along came the inevitable disposable. I was warned not to touch the tabs with greasy fingers ( from using baby cream). I cleaned my hands well, or so I thought and proceeded to do them up.
Nope, they wouldn't stick. By the third nappy, (did I mention they were also very expensive then as new products usually are?), I was beginning to despair. But I had a brainwave and held the tabs in place with masking tape. Only took about 2 hours, lol. My brother and his wife thought it was hilarious. Took a while, years, to live down.
Anyway, I digress. I discovered, apparently along with many mothers, that the tabs told you when to go up to the next size.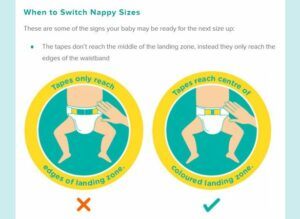 There is something called a 'landing zone'. It's nothing to do with where the nappy lands apparently, floor, bin, lazy other half's lap etc. If the tabs meet in the centre of the 'landing zone' or at least are on the coloured part of the nappy, the size is fine.
If it's getting close to or on the white part of the nappy it's time to move up a size.
Who knew? Who even knew that the coloured  picture or pattern had a purpose? Not me!
Now  let me think …. What was the other amazing piece of knowledge I learnt after all these years?
Bottoms up its Nappy Time
Oh yes, the sizes.
I assumed, apparently like many others that the + sign on a pack of nappies meant they were a half a size up. A natural assumption I would think. Yes?
Turns out it means they are extra absorbent. This is probably why they often cost a bit more.
So getting the plus means its good for overnight or babies who drink a lot more than others. You want them to be sleeping like a baby, not waking up because they are wet through.
We live and learn!!
Pampers have a lists for other signs that mean it's time to go up a size in nappies..
You can't fit two of your fingers under the waistband of the nappy
Your baby shows signs of discomfort due to the nappy being too small
Nappy develops overnight because nappies that are too small hold wetness close to the skin
The nappy isn't covering her buttocks completely
Red marks appear on his/her tummy or thighs indicating that the nappy is too tight
The nappy starts to leak pee or poo. Should a dreaded "nappy catastrophe" happen, then it's probably time for the next size up.
However, nappies may also leak if they're too big. It's a constant balancing act.
Who knew there was such a science to nappies? I think I may be discovering all this a bit late.
Why use ECO nappies?
According to The Guardian newspaper last year:  "Millenials  are turning to cloth nappies, partly concern for the environment and partly the overall cost of disposables."
But starting out with cloth nappies can be quite an outlay. In some areas apparently councils are offering vouchers towards the cost .
BUT:
Environment Agency report comparing cloth and disposable diapers. … Cloth and disposables have similar global warming impact, though for different reasons. The manufacturing of disposable diapers has a larger carbon footprint, but the electricity used to wash reusable diapers cancels out most of the difference.
Information from Google states:
Decomposing disposable nappies emit noxious methane gas.
A biodegradable nappy could take up to 50 years to decompose, say waste experts.
Ordinary disposables will take 200 to 500 years to decompose, leaving a legacy to your children's grandchildren.
It was reported on 27th March 2019 that:
*A bill has been launched in Parliament designed to promote the use of reusable nappies.
The Nappy (Environmental Standards) Bill was launched yesterday (27 March) by SNP MP for Glasgow East,       David Linden.
It sets out plans to establish an industry and government-led campaign to encourage parents  to take up reusable cloth nappies.*
There were several places this was reported, I selected one of many available.
Once again though, as with everything, it comes down to personal choice and circumstances.
Don't feel pressured by others to go one way or the other.  Your baby, Your choice.
What's available?
Quite a lot now as this is a rapidly growing market with so many parents being concerned about what goes in and on their baby. And wanting to help the planet to leave a viable world for their precious child.
A few selections for you.
A nappy I know, because one  of my daughters went on to these after the cloth nappies  got too small.(Big baby, grew fast.)  
Naty says:
"These are: Eco certified, environmentally friendly nappies, that keep your baby dry all day and night.
Gentle on your baby with no nasty chemicals and Award-winning premium performance."
They say:  "An Award winning children's nappy with a super absorbent core and high performance top-dry layer to ensure fast absorption.
Fully breathable, textile feel back sheet and soft and gentle"
Bambino Mio   
They say:                                       
"Stylish, super soft all-in-one cloth nappy. the nappy is one size* meaning it will grow with baby from birth to potty training

The size of the nappy can be changed using the adjustable poppers and hook and loop fastenings to suit the shape of your little one."
I think these look great and you can get the starter packs which are handy. So much nicer and more convenient than the white toweling squares I used for my babies.
I love the way they are adjustable as the baby grows.
There is so much choice and though I have added a small selection to show the type of thing that is available now there are many more.
My best choice of baby nappy cream/ointment.
I used to use general creams until I discovered organic products for babies. I was amazed at how much better they are. Until I tried them I just thought they were all pretty much the same. But no, they actually are very much better. I love the Burt's Bees lip care once I tried them, I found they were so much better than anything I had used before I was hooked.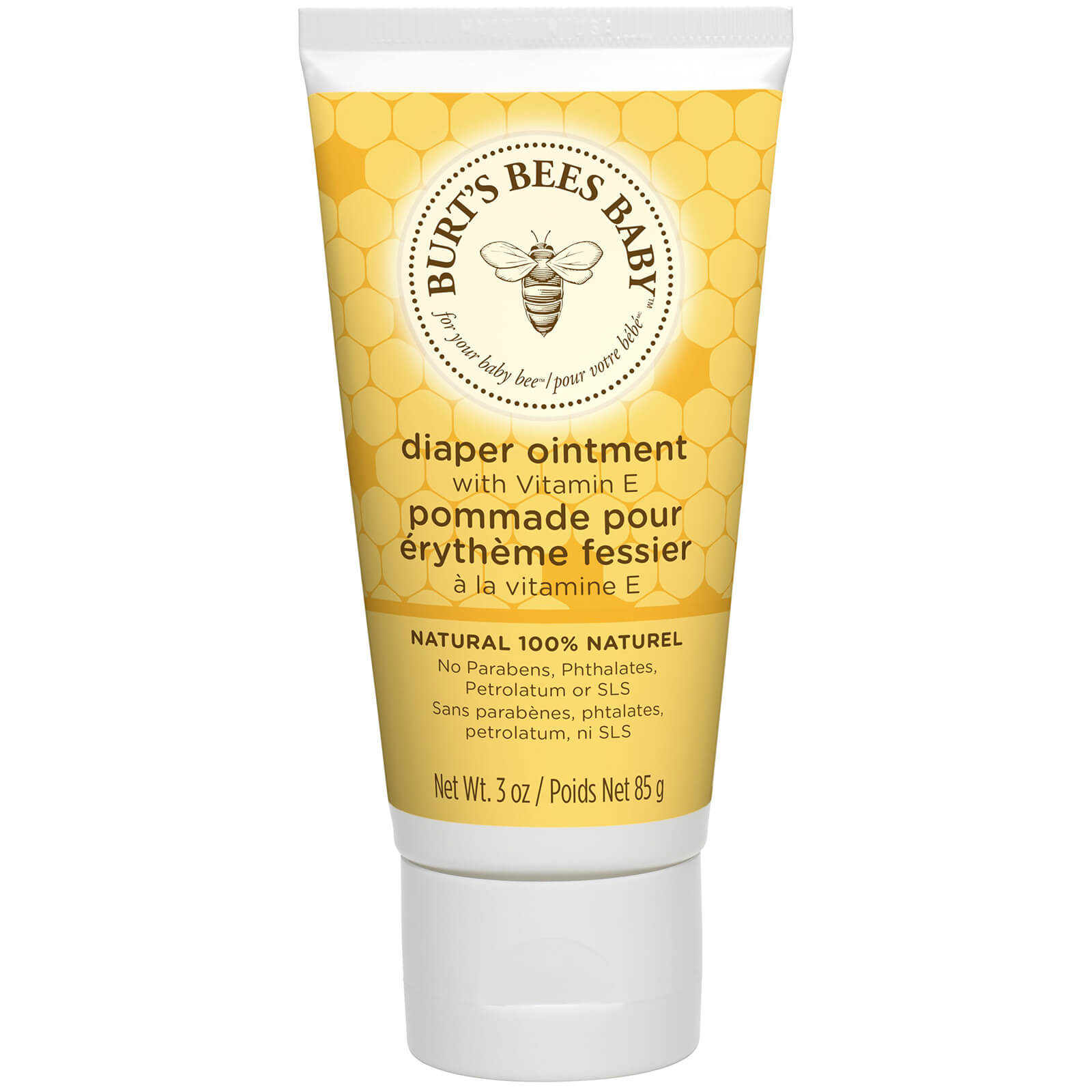 So discovering they did all manner of other products was wonderful, especially the baby products. Babies nearly all get nappy rash, some much worse than others but I found the nappy ointment from Burt's Bees made a big difference. It is more expensive than many but so worth the extra. When I looked after the grandbabies I always kept Burt's Bees nappy cream for their delicate skin.
It was harder to find at first, several years back but now many places stock it, which makes life much easier.
It's worth always having some, even if you don't use it all the time, it as it seems to really help keep a baby's skin in better condition. With warm weather they get hot and sweaty and that's a breeding ground for soreness and rashes.
Personal Choice
It's that old thing once again, personal choice. Do some research, ask around and then decide on what you want to use for your precious baby.
If you are here, the chances are you are interested in eco friendly products for your precious baby, if you aren't already using them.
I hope you enjoyed this post, if so please share for others to enjoy.
If you have any questions on this or any other subject please don't hesitate to ask. If I don't know the answer, I will do my best to find out.
Thank you for visiting, please come back soon.