It's that time of year when we buy more gifts than usual, although, lets face it, gifts are a year round thing. Birthdays, special occasions and even 'just because'. Now that covers grandparents, aunts, uncles and all other family members as well as friends, who want to spoil your child. So lets go and find eco friendly toys for Babies.
I haven't added prices as at this time of year they can change often, with the Black Friday weekend and Christmas sales.
To go direct to the site to check out the details and the prices, just click on the title or the picture.
So what to get?
If you are trying to go plastic free or even just make greener, eco friendly choices  it narrows the field a bit. So I decided I would find some nice toys that fit the bill.
After all nowadays, we tend not to want too much plastic around our precious babies. Much nicer to have good quality toys that will last and look nice too, especially if they are ecofriendly toys for babies. So often plastic toys break, or get damaged and end up with sharp edges which means the toy has to go in the bin. Most of the time they aren't much cheaper than the better quality toys made from sustainable materials, that are strurdier and feel much nicer too.
How about some books to start with? Perhaps one that teaches your child about the rainforest.
This one is part of a series of books
Make story time an educational adventure about the rainforest, its inhabitants and the global problem of deforestation.
A perfect story for your own little Wild Tribe Hero, this inspiring and gentle book is the fourth in the bestselling Wild Tribe Heroes series of true environmental issues.
                                                 Here we have the other 4 books in the series.
They all teach children about the environment in a delightful way. Each is a beautifully illustrated story for your child to enjoy and to capture the imagination.
The Playmat does not have an age range on it.
A gorgeous playmat that will educate and entertain your child.
The playmat folds in half and zips up for storage or travel. There is a loop for carrying or hanging it up out of the way. Great for neatness and space saving.
The playmat opens to reveal a forest with many items found in the forest – some that should be there, some that shouldn't! 

Children will have hours of fun playing with the forest animals and using the rod provided to pick up the things that shouldn't be there using the hidden magnet – a can, bottle and plastic bag!
Save Our Forests is embroidered on the outside.
Approx. size: closed – 38cm x 18cm; open – 38cm diameter
Material: 100% handwoven cotton
At the minute many of these Plush Ride On toys are on sale in the run up to Black Friday. Good reductions too!
I loved this at first sight. It is so unusual and just looks so beautifully soft.
 A white, light pink and black swan design that is soft, plush and beautiful.
Made from a WOOD & REINFORCED STEEL FRAME: Strong, sturdy and lightweight, it rocks backwards and forwards smoothly.
It has a MUSICAL BUTTON: Located on the wing, it plays a soft lullaby they'll love rocking to for many hours.
It has a comfortable wide seat and high back that keeps them secure and comfortable as they rock.
It has a FRONT HANDLEBAR & FOOTRESt that allows them to sit and hold on safely whilst rocking.
DIMENSIONS: 55H x 60L x 32Wcm. Seat to floor: 26Hcm.
MAXIMUM WEIGHT 30KG, AGES 18 MONTHS +. NO ASSEMBLY REQUIRED. 2 X LR44 BATTERIES REQUIRED.
Plush Ride On Unicorn
Had to add this one as it has a moving mouth, wagging tail and a neighing sound along with galloping sounds too.
Wide Variety of Styles Available
With excellent prices!
There are many more of these beautiful plush animal rockers.  A large variety of colours and animals, something for everyone's taste.
They will make a wonderful gift for a very lucky child!
Spotted this one and couldn't resist it. Just had to include this one, its so cute.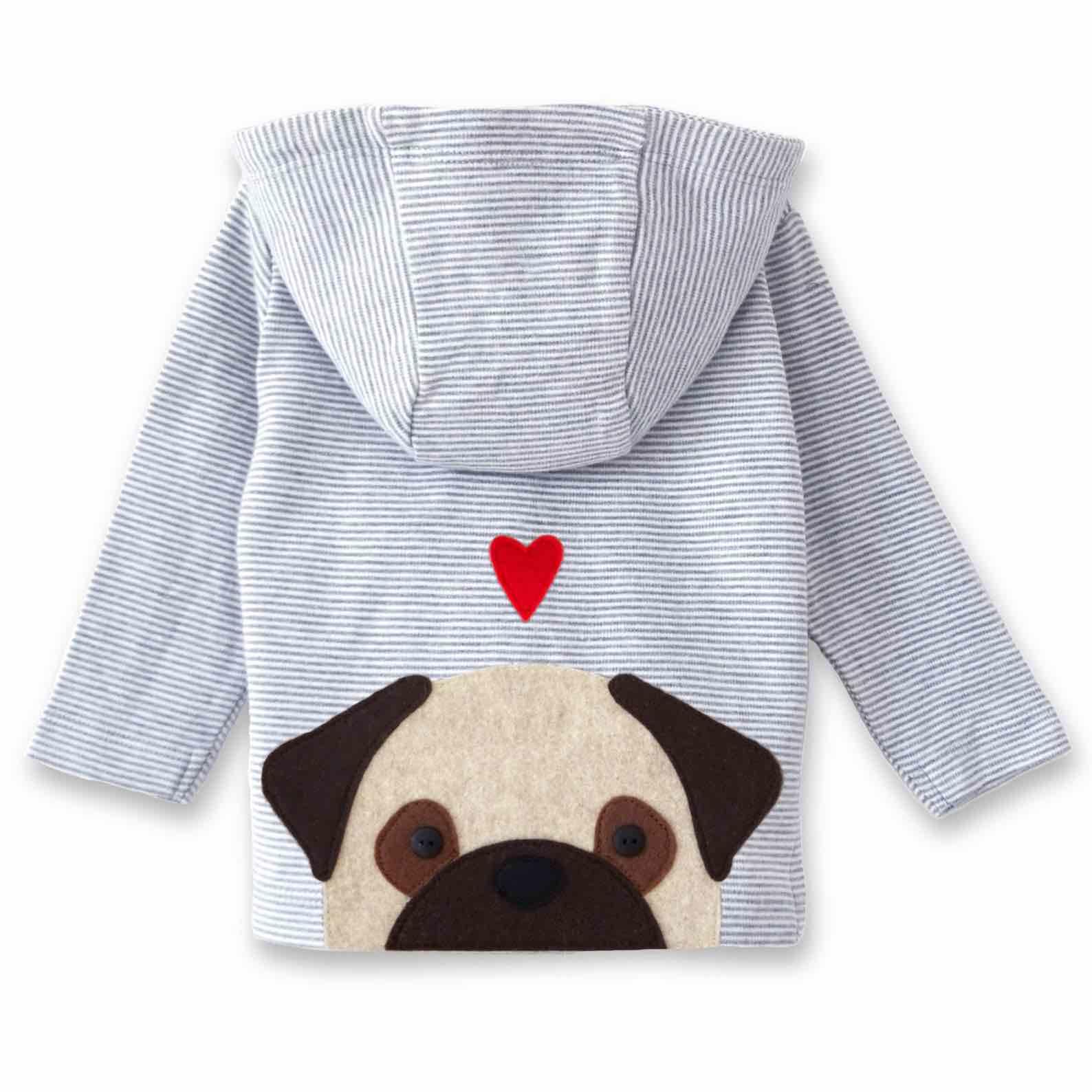 Made of 100% certified Organic cotton, the gorgeous little jacket is
handmade in England. It's lined inside with a soft interface so there are
no threads to irritate delicate skin.
The pug's features and little heart have been hand cut from recycled
Kunin felt and then machine sewn onto the organic jacket.
The eyes are black buttons that have been securely sewn on.
Gift Wrapping
We do of course have to think about wrapping of some sort. The usual paper bought in sheets and rolls is not very often recyclable. Why?
It often has a plastic film to make it a bit stronger.
So how can you tell? Well, I did what most of us do, I googled it!
Apparently if it passes the 'scrunch test' it is probably recyclable. That means that if you screw it up in a ball and it stays that way it is more likely to be recyclable. But to go in the recycling bin you must remove the sellotape if you used any.
Foil paper and any with glitter on, is apparently not for recycling.
So, do you feel much wiser now? No me neither as it is all possibles and maybe.
Recyclable Wrap!
Now this sort is definitely able to be recycled because its made from material and you can just reuse it year after year.
Although I must confess that if I get given a gift in a bag, I carefully remove sellotape etc and reuse it. They are so pretty and its better to reuse them than for them to go to a landfill somewhere.
These have been growing in numbers over the years as Christmas after
Christmas the sheer volume of waste just keeps growing.
These particular ones are printed on to organic cotton. They come in 2 sizes and 2 colours.
From the website:
Small – 45cm x 45cm (17 inches by 17 inches) –
Suitable size for bottle of wine, gloves, books, DVDs, bracelet box, a watch,
aftershave, clutch bag, Kindle, iPad and so on.
Medium – 70cm x 70cm (27 inches by 27 inches ) –
Suitable size for a shoe box, board games, shirt, cuddly toy,
camera, poster tube, mobile phone in a box, gadgets, large books and so on.
I do love the fact that there are so many choices now for clothes, toys and wrapping.
This time we have paper wrap from paper that has not been bleached and is recycled.
Made in the UK, the paper is thick enough to be able top use ribbon or string rather than sticky tape. If you do use tape it is advised to use paper tape.
It has been printed with vegetable inks so it is fully recyclable.
There are other designs in this reusable paper.
A few years back it was hard work finding anything decent and those that were had big price tags.
Now though with the rise in consumers demanding eco friendly/green/ethically made toys and wrap, my job is much easier! Yay!!
What did you think of my eco friendly toys for babies?
---
If you enjoyed this post please share. Comments and questions welcome.