For me this is very relevant right now as the youngest grandson is being potty trained.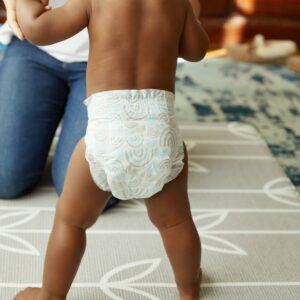 How hard can it be?
How hard do you want to make it? Potty training made easy is much better all round, for everybody.
Let me say here, that this is a perfectly natural process. It should be simple and straightforward.
I read on another blog recently about potty training being stressful and traumatic and actually wondered if that person even had a child.
Ahead of the process you talk about it, get a child's book about it if you feel that would help. Let them help choose their 'grown up' pants and explain how much nicer it will be to wear those instead of nappies.
Most of all do NOT make too big a thing of it.
The lead up.
Apparently there are a variety of methods these days with talk of difficulty, signs and pointers to know when your child is ready etc.
You don't need to tick boxes. If you try at any time before 2 and they scream blue murder and hate the potty, you leave it. That's just common sense.
From  20 months on, if they show a curiosity about the toilet and people using it, it's an opportunity to test the waters and try them on the potty.
Hiding in a corner or behind a chair to poo, letting you know they want changing etc are all good pointers they are ready.
So you gather everything you need, treats, potty and pants with lots of spares.
The method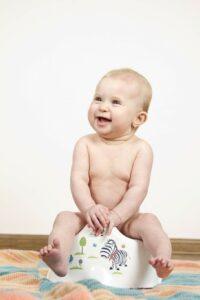 I trained both my two daughters in 3 days and much more recently helped with the second from youngest. Yes it meant I did most of the work.
My daughters didn't have sweets or chocolate at that age which was good as I used white chocolate buttons as treats. Treats can be anything they like but don't often have, if you do this right within a short time they will love sitting on that potty.
Now for this method you need to have 3 days to stay home and focus totally on the potty training if you wanted it completed successfully within the time frame. You need to stay close by and ensure they sit on the potty at regular intervals.
The first day
The child wears a top but nothing on the bottom half. If they are reluctant at first to sit on the potty you encourage them with a treat. When they sit down on the potty you praise them a lot.
As soon as they realise they get a treat each time they will go back to it. After the first few times only give the treat when they have a wee. Encourage the child to drink as much as possible once they understand the potty is to wee on and each time they do, however small the amount they will get a treat.
They will start playing and forget at times but a  regular reminder with encouragement to sit on the potty at regular intervals will help.
By the end of the day, with many treats and much praise they should have the basics.
Day two.
Once the night time nappy is off, you introduce the pants. Have a large pile you will need them.
You show your child how to pull them up and down. They may or may not find this fascinating.
You will need to be very quick now as once they want to go the pants need to come down before sitting. This is the point where you will get some dribbles on the pants and be glad you have a good supply at hand.
Do keep encouraging them to drink as much as possible as this is vital for regular wees on the potty with much praise and a treat each time. If they should manage a poo as well on the potty at any time, that gets 2 treats and a double dose of praise. Lots of praise is crucial as most children will perform for praise as well as treats.
There will be a few accidents but you just tell them it doesn't matter and continue with much praise for the successes.
Hopefully by the end of the day there will be mainly successes.
Day three.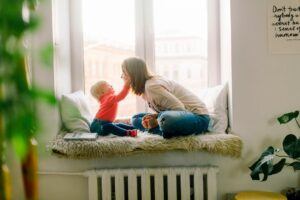 By now you should be able to add in trousers/shorts or whatever else they normally wear, including socks.
Todays clothes should be comfy and you should be able to be pull them down fast.
Today should follow much the same pattern as the previous two days apart from now being fully clothed.
By now they should be telling you each time they need the potty if not using it themselves. That of course will depend on their age and dexterity and how independent they are in general.
Conclusion
By now, if not fully potty trained they should know and understand the basic idea and know what they have to do.
My daughter who was potty trained at 20 months never looked back, she got it quickly and took pride in how grown up she was. No accidents at all.
The younger one wasn't ready until she was nearly 2 and she would forget and had a few accidents while playing outside but that soon stopped.
I followed this having been given advice from other mothers and found it very simple and easy. Both children quickly understood what they had to do, thanks to the treats. They were a novelty because they had been given an odd one but it was rare. So being able to gain lots of treats was a big incentive to get it right.
I hope you found this useful. I am sure that nowadays there are many other 'systems'. I think with anything like this it is easier if you feel comfortable with it too.
For safety don't leave them alone sitting on a potty or especially a toilet seat. More safety tips HERE!
So do Google Potty Training and check out other ideas for it too. The most successful one will be the one that resonates  with you.
Below are some Potties, a training seat and a couple of travel  potties.
Potties and Toilet seats.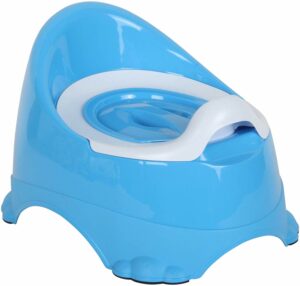 I chose this one because it is BPA free and a good price. Plus it has a lid to close off the contents in case you cannot empty it immediately.
BPA Free. It is suitable for the contact with skin.

The storage part is removable making it easier to empty and clean.

Height 22 cm Width 24 cm Length 35 cm aprox.

Anti-slip Legs

Removable Storage with Lid.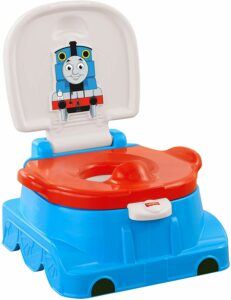 A child's Toilet Training seat, Ring and Step Stool with Train Sounds, Songs and Phrases to Encourage and Reward.
Though more expensive this charter potty doe serve more than one purpose. It is a potty, then can be used as a toilet seat with the base then being used a stool for reaching the toilet and/or sink. I think that's very clever to have it as a 3 in one.
Grows with your child from potty seat, to potty ring and step stool, handles help children feel secure

Fun train sounds and a tune encourage and reward success

Bowl removes for easy cleaning, built-in splash guard for boys

Potty ring fits most toilet seats (not recommended for use on padded seats)

Sturdy step stool holds up to 200 lbs (90 kg), requires 1 AA battery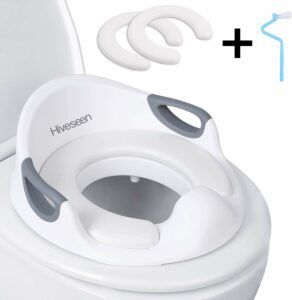 A Toilet Seat for Toddler Potty Training. The Seat has Soft Cushion Handles and states it will fit Round or Oval Toilets. It has a Double Anti-Slip Design and Splash Guard for Boys and Girls(White)
I really liked the look of this one and liked that it is BPA free too.
I also bought this to use at my house. It is very comfortable and they feel safe having the handles to hold. Often the transition from potty to toilet can cause problems because they can feel as though they aren't safe, being much higher up.
Once my grandson used this and I showed him where the handles were hne was quite happy to use it.
SAFE AND COMFORTABLE  with Non-slip rubber strips insert the bottom plus adjustable levers keep the toilet training seat securely in place, the grip handles offer additional security which makes your Child feel safe while sitting on it.

STYLISH DESIGN – Ergonomic design to protect your baby's spine from damage. Also, anti-splash design of the training seat prevents spills outside the toilet.

HEALTHY AND SAFE MATERIAL – High-quality and environmental protection PP material, BPA-FREE. It is soft and comfortable to protect a toddlers skin.

APPLICABILITY – The toilet trainer is suitable for ages 1-7 years  old children, will fit most toilets. It takes just a few seconds to install.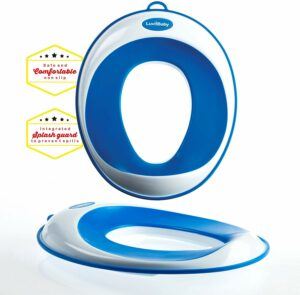 Children's Toilet Trainer Ring for Boys or Girls with a Secure Non-Slip Surface.  And as a Bonus, a Suction Cup Storage Hook.
It comes in the blue as shown, also in orange, pink and green.
This does NOT have any Eco friendly attributes but I have included it as an alternative.
TOILET TRAINING JUST GOT EASIER: Toilet training your child doesn't have to be a frustrating experience! The Luvdbaby toilet seat adapter is safe to use and your child will have more confidence as their little bums will not fall through
COMFORT  Your little treasure will love the comfort of the soft rubber surface on top of our toilet seat. It has a nicer texture and is less slippy than a standard plastic finish

SAFETY FIRST: Your child will grow in confidence as they learn to use the grown-ups toilet thanks to our non-slip gripping ring on the underside of our seat. The trainer ring will not scratch your child or the toilet and will never warp or deform

 STYLE & FUNCTION: As parents ourselves, we believe that baby products should be stylish and functional. Your child will love the vibrant colours and out potty training seat will go with any bathroom decor. When not in use, simply hang the seat up with the hook included. Pair with our Luvdbaby Step Stool for the perfect combination.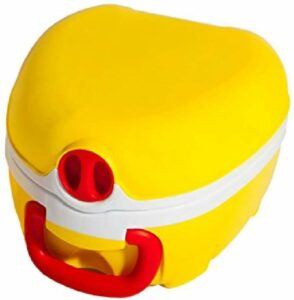 This travel potty I have used at my daughters for my grandson and now have one at my home for the youngest grandson. I like that its 98% recyclable. plus it seals tight, so no leakage or smells. I didn't use it all the time, just when out and about.
I give you consistency when potty training, you can use me inside the home and you can take me everywhere you go!

My unique handle makes me light and easy to carry which encourages little ones to take wherever they go

I'm leak-proof and BAG FREE!

I have a large comfy seat and non-slip feet

I am 98% recyclable!
You can also get cute characters in this make of travel potty too.
Had to include this cute Fox travel potty. It also comes as a penguin, ladybird, cow, dinosaur, bumble bee and a cat.
This one has all the same attributes as the one above.
I thought this was very cute but still went with the one I knew worked well..
—————————————————————–
Hope you enjoyed this post. I so please share for others to enjoy.
If you have any questions, please ask. Comments welcome.